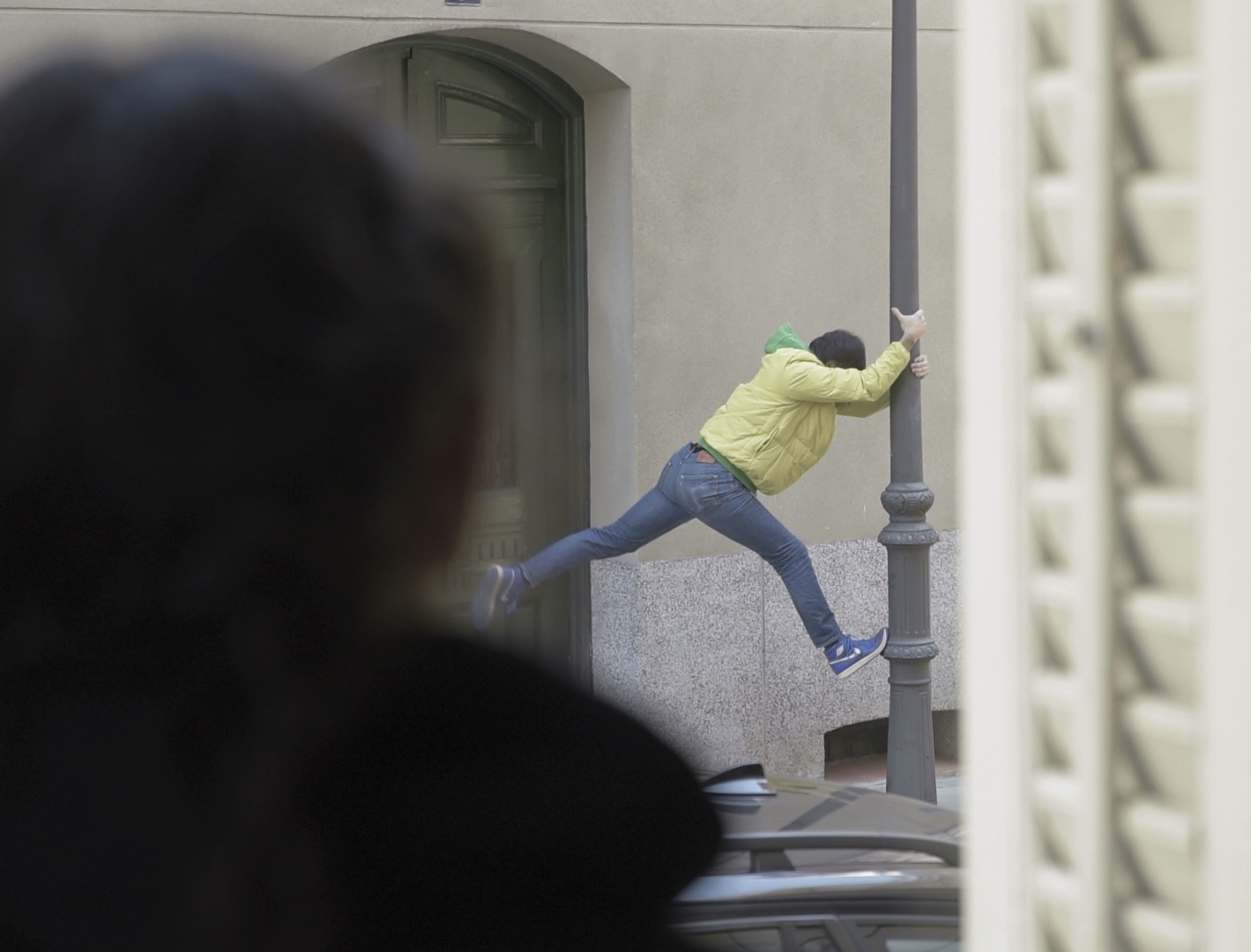 "NO GESTURE IS SPONTANEOUS": POLIANA LIMA & LUCAS CONDRÓ
No gesture is spontaneous, every movement of the body is shaped by our experiences, our history, the contexts in which we have grown up.
Our gestures are an infinite accumulation of our past experiences.
Change arises by relating those gestures to the immediately present context and thus generating ruptures that unfold new points of view.' 
Poliana Lima- Lucas Condró
_
Poliana Lima (Brazil, 1983) choreographer, dancer and teacher, based in Madrid.
Graduated in Social Sciences from the State University of Campinas and trained in classical ballet and contemporary dance in São Paulo. In 2011 she made her first short piece 'Palo En La Rueda'. In 2012 she performs, with the Lithuanian choreographer Ugne Dievaityte, the pieces 'Es Como Ver Nubes', awarded with the Audience Award of the XXVI Certamen Coreográfico de Madrid, the second prize in the Certamen de Una Pieza and the first prize in the Festival Vila Real en Danza 2014, and 'Flesh', a piece with which she toured national and international festivals such as Fringe Edinbugh, Spring Forward Aerowaves, Mercat de Flors, Dansa València, New Baltic Dance, Madrid en Danza etc. In 2013 she participates in the European project 'Performing Gender' and creates the performance 'Cuerpo-Trapo' for the Museum of Contemporary Art in Zagreb, Croatia. In 2014 'Atavico', her first ensemble, is awarded with the first prize at the XXVIII Certamen Coreográfico de Madrid, as well as the Audience Award, the Critics Award, the Dance Web Scholarship 2015 (Impulstanz Vienna) and the residency at Tanzhaus, Zurich. In 2017, she premieres her solo HUECO at the Teatros del Canal in Madrid and at the BAD Bilbao Festival. Associated Artist at Conde Duque Madrid between 2018-2020 she develops her choreographic-documentary project 'Aquí, Siempre' and 'Las cosas en la distancia'. In 2020 she premiered 'Las cosas se mueven, pero no dicen nada' at Teatros del Canal, co-produced by Festival DDD in Oporto, CND Pantin/Paris and Porosus Fonds de Dotation. Selected piece for Aerowaves, it has been performed at the Museo Nacional Centro de arte Reina Sofia. In 2022 he premieres Oro Negro at the Teatro de La Abadia in Madrid as part of the Autumn Festival.
Lucas Condró (Argentina, 1977) is a dancer, choreographer and teacher.
Since 2012 and until today he has been carrying out his project ASYMMETRICAL-MOTION: a research work with the aim of developing and systematizing his experience in the pedagogical practice of contemporary dance that he has developed in centers such as Tik Tak, Brussels, Bambú Danza, Madrid, KulturKraft Väst, France and Sweden, DOCH university, Le Lido, Cullberg Ballet company and Les 7 Doigts de la Main. In February 2016 he published with Pablo Messiez the book: 'Asymmetrical-Motion/Notes on pedagogy and movement'. He has participated in Jan Ritsema's 'Springdance dialogues' and Nicole Butler's 'Several Species of Small Furry Animas', and worked with choreographers such as Paz Rojo, David Zambrano, Nora Heltman and Katrina Brown. He has also co-choreographed and performed the piece Cuerpo de Baile, by Pablo Messiez. He has directed 'El espacio', a piece created at the Montpellier Choreography Center. Together with Poliana Lima, he organizes the dance cycle MoverMadrid at the Sala Cuarta Pared.
CAMPING is a project by Nerea and Idoia Fernández, directors of NF/NIEVES FERNANDEZ and Blanca Cortés, lawyer specialized in intellectual property.