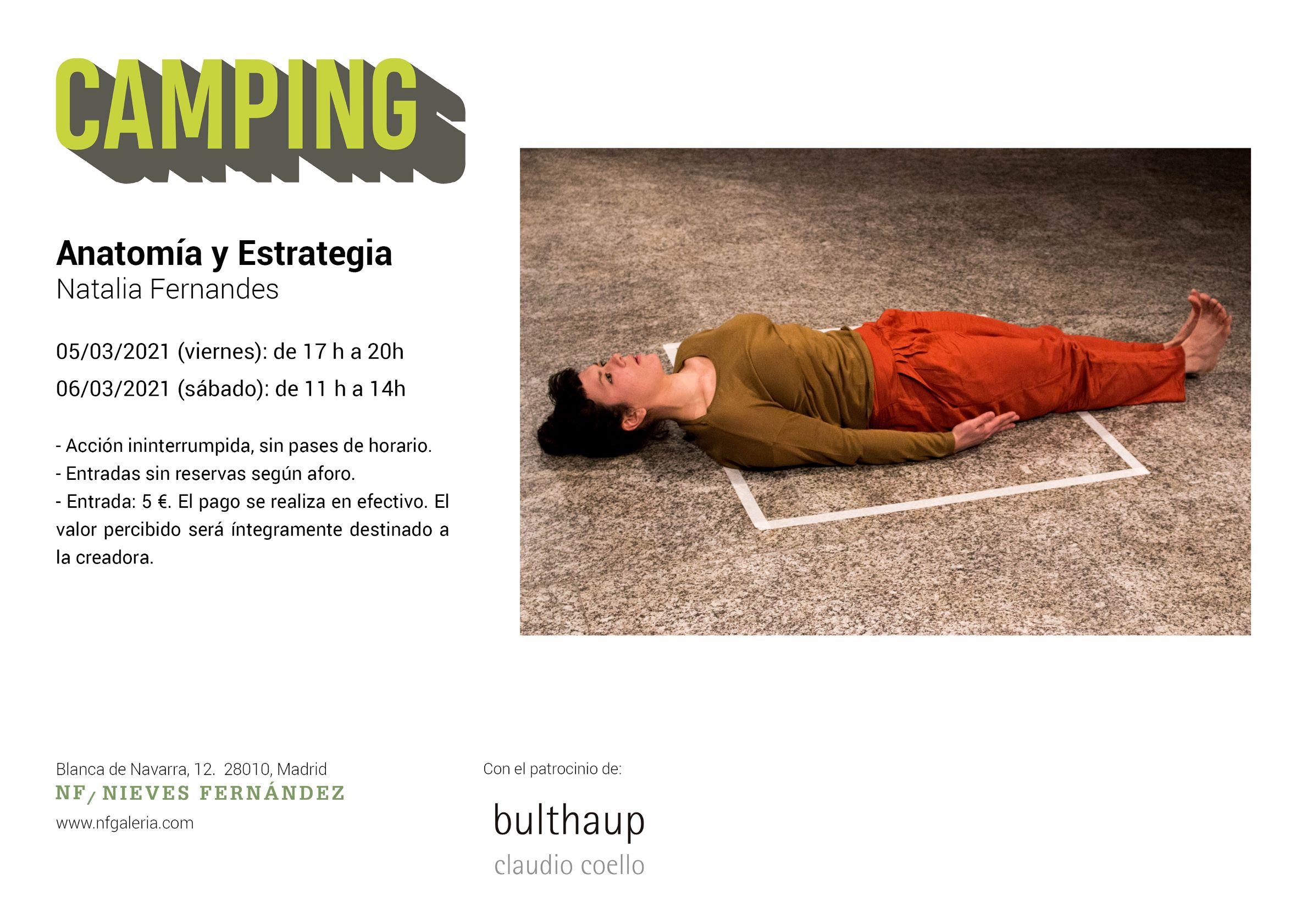 CAMPING presenta 'ANATOMÍA Y ESTRATEGIA', de Natalia Fernandes
"Anatomía y Estrategia" es una instalación coreográfica de Natalia Fernandes, donde el cuerpo de la bailarina se transforma en una escultura viva que, mientras se mueve, cuestiona los límites del cuerpo como obra de arte. La pieza busca una mirada atenta y vehemente al cuerpo que habita el espacio entre la racionalidad y la naturaleza en esta constante negociación entre conceptos que se pelean y se complementan en cada ser humano.
Para esta acción no se realizan reservas, la entrada será según aforo a lo largo de las 3 horas de presentación ininterrumpida.
NATALIA FERNANDES es una coreógrafa y performer de São Paulo, vive y trabaja en Madrid desde 2017. Licenciada en danza por la Universidad Estatal de Campinas (UNICAMP), en Brasil, Natalia también complementó su formación con distintos cursos y talleres en Brasil, EEUU y Alemania. Desde 2013 imparte clases de "Anatomía Inventada: danza contemporánea", en distintas ciudades de Europa, África y América. Es profesora invitada en el Conservatorio Profesional Ana Laguna de Burgos. En 2016, inició un proyecto de clases sobre conciencia corporal y danza contemporánea para mujeres refugiadas junto al CEAR (Comisión Española de Acogida de Refugiados), en Madrid.
El proyecto "Anatomía y Estrategia" fue el ganador del premio "Me,Myself & I", del 29º Certamen Coreográfico de Madrid. Ha recibido el apoyo del equipo Paso a 2 (España), Musiberia (Portugal), Espaço das Gaivotas (Portugal), Compañía Nacional de Danza (España), Centro de Danza Canal (España), del Museo del Traje/UCM/España y fue una instalación coreográfica invitada para el cierre del festival Ellas Crean, en Madrid, 2019.
–
'Anatomía y Estrategia' es la tercera acción de CAMPING, una iniciativa que abre el espacio de la galería NF/ NIEVES FERNANDEZ a diversos actores culturales, con el fin de que puedan desarrollar y exhibir sus proyectos y creaciones libremente. Tomando como soporte de sus acciones el espacio expositivo, los diversos actores desplegarán sus proyectos temporales interactuando con la exposición instalada en ese momento en la galería.
CAMPING es un proyecto de Nerea e Idoia Fernández directoras de NF/NIEVES FERNANDEZ y de Blanca Cortés, abogada especializada en propiedad intelectual.
–
'Anatomía y Estrategia' is a choreographic installation by Natalia Fernandes, where the dancer's body is transformed into a living sculpture that, while moving, questions the limits of the body as an artwork. The piece seeks an attentive and vehement gaze at the body that inhabits the space between rationality and nature, in this constant negotiation of concepts that fight and complement each other within each human being.
No reservations are made for this action; entrance will be organized according to the space's capacity throughout the 3 hours of uninterrupted presentation.
NATALIA FERNANDES is a choreographer and performer from São Paulo, living and working in Madrid since 2017. With a degree in dance from the State University of Campinas (UNICAMP), in Brazil, Natalia also complemented her training with different courses and workshops in Brazil, the USA and Germany. Since 2013 she has been teaching classes on 'Invented Anatomy: contemporary dance' in different cities in Europe, Africa and America. She is a visiting professor at the Ana Laguna Conservatory, in Burgos. In 2016, she started a project of classes on body awareness and contemporary dance for refugee women together with the CEAR (Spanish Commission for the Reception of Refugees), in Madrid.
'Anatomía y Estrategia' project was the winner of the 'Me, Myself & I' award at the 29th Madrid Choreography Contest. It has received the support of the Paso a 2 team (Spain), Musiberia (Portugal), Espaço das Gaivotas (Portugal), Compañía Nacional de Danza (Spain), Centro de Danza Canal (Spain), Museo del Traje/UCM (Spain) and it was a guest choreographic installation for the closure of Ellas Crean Festival, in Madrid, 2019.
–
'Anatomía y Estrategia' is CAMPING's third action, an initiative that will open NF/ NIEVES FERNANDEZ' gallery space to various cultural actors, so that they can freely develop and exhibit their projects and creations. Taking the exhibition space as a support for their actions, the various actors will display their temporary projects interacting with the exhibition installed at that time in the gallery.
CAMPING is a project conceived by Nerea and Idoia Fernández, directors of NF/ NIEVES FERNANDEZ and Blanca Cortés, lawyer specialized in intellectual property.