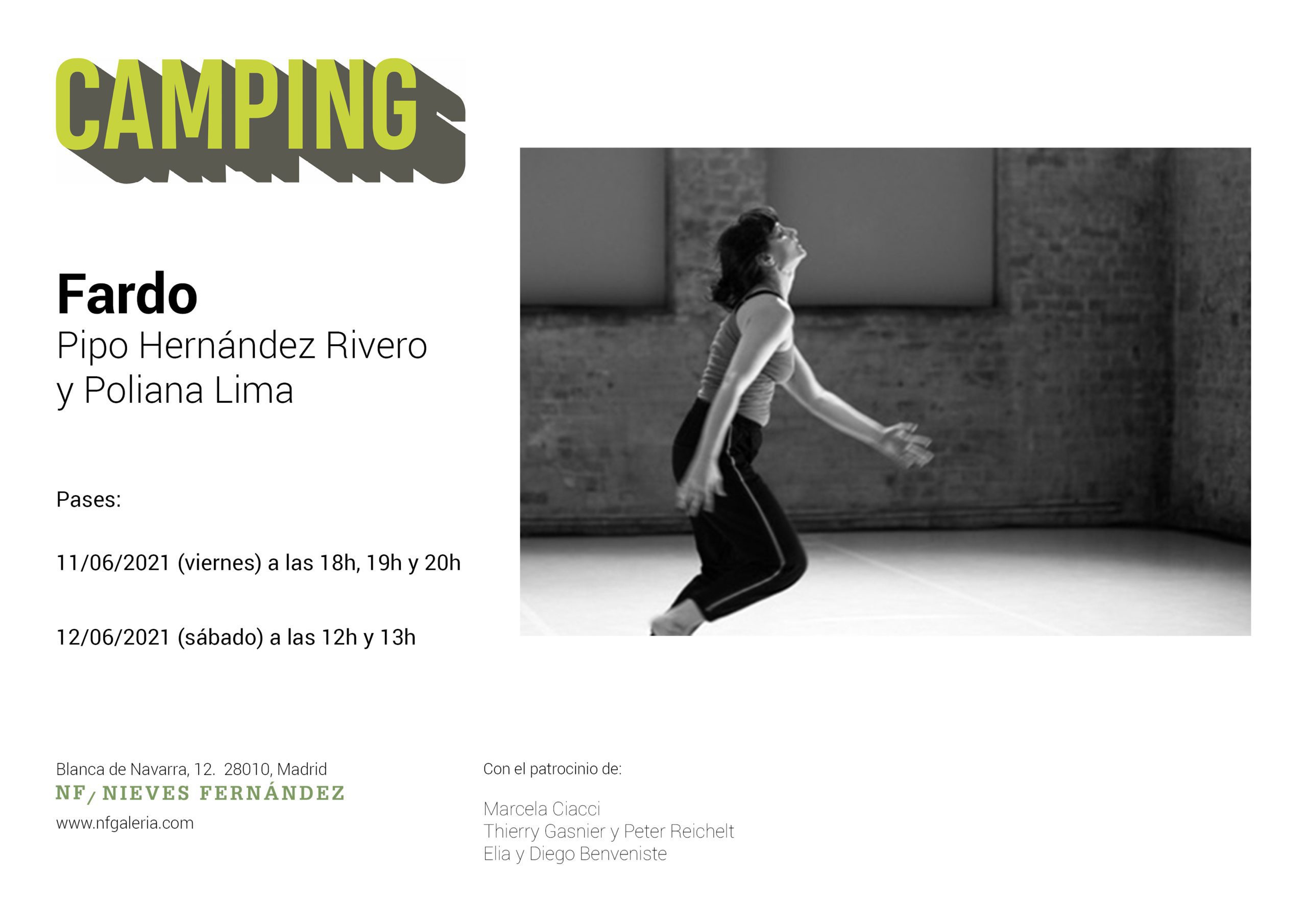 CAMPING presenta 'Fardo', de Pipo Hernández Rivero y Poliana Lima
PARA RESERVAR UNA PLAZA, PINCHA AQUÍ.
Fardo propone un encuentro entre el experimento sonoro, la danza contemporánea y el entorno galerístico.
Fardo ofrece una experiencia sin sujetos pasivos.
Fardo reconoce la relación íntima entre el sujeto contemporáneo y una suerte de mismidad tecnológica: el móvil que posee.
Fardo juega a desmantelar el protocolo de apagado de móviles durante el espectáculo.
Fardo promueve el uso activo del móvil como fuente sonora del espectáculo.
Fardo invita a los asistentes del público a instaurar y mantener la trama sonora mediante la activación a voluntad de cualquiera o de toda la variedad de alarmas instaladas en sus móviles.
Fardo pretende una experiencia en la que la danza contemporánea actuará como catalizadora de tal complejidad.
Por tanto:
Fardo presenta a la bailarina y coreógrafa Poliana Lima que será la encargada de administrar los obstáculos, encuentros y posibilidades inherentes a la tensión dinámica que ofrece una galería de arte con una exposición en curso, un público activo esparcido por ella de forma aleatoria y un estado sonoro imprevisible.
POLIANA LIMA (Brasil, 1983) es coreógrafa, bailarina y docente, afincada en Madrid. Asume la danza como una parte esencial de su vida y como herramienta para hablar de la condición humana y lo misterioso de nuestra existencia. Entre sus trabajos más destacados, están: 'Palo En La Rueda' (2011); 'Es Como Ver Nubes' (2012), premio del Público del XXVI Certamen Coreográfico de Madrid y 'Flesh' (2012), ambas con Ugne Dievaityte; 'Cuerpo-Trapo' (2013) para el Museo de Arte Contemporáneo de Zagreb, Croacia; 'Atávico' (2014), primer premio en el XXVIII Certamen Coreográfico de Madrid, premio del Público, premio de la Crítica, Beca Dance Web 2015 (Impulstanz Viena) y residencia en Tanzhaus, Zurich; 'Las cosas se mueven pero no dicen nada' (2016) para el Laboratorio 180 y en Teatros del Canal en 2020; 'Hueco' (2019), solo en los Teatros del Canal y Festival BAD Bilbao. En 2021 se estrena en Francia, en el Centre National de la Danse en Paris y sigue su gira por Europa. Poliana Lima es la artista de España en Aerowaves 20/21.
PIPO HERNÁNDEZ RIVERO (Telde,Gran Canaria, 1966) ha expuesto en galerías de Madrid, Milán, Tenerife, Las Palmas, Barcelona y Berlín. Además, ha realizado exposiciones individuales en la Ermita del Gran Poder y en el Círculo de Bellas Artes de Tenerife, el Centro de Arte de La Recova, y en la Sala de Arte Contemporáneo de Tenerife. Y también ha participado en la Bienal de Canarias, la Bienal de La Habana, y en exposiciones colectivas en el Artium de Vitoria, los museos de Cracovia, Praga y Budapest, y el CAAM Centro Atlántico de Arte Moderno. Sus obras se pueden encontrar en colecciones privadas en Turquía, EEUU, México, Italia, España, así como en las colecciones del ARTIUM, el CAAM, el TEA.
–
'Fardo' es la cuarta acción de CAMPING, una iniciativa que abre el espacio de la galería NF/ NIEVES FERNANDEZ a diversos actores culturales, con el fin de que puedan desarrollar y exhibir sus proyectos y creaciones libremente. Tomando como soporte de sus acciones el espacio expositivo, los diversos actores desplegarán sus proyectos temporales interactuando con la exposición instalada en ese momento en la galería.
CAMPING es un proyecto de Nerea e Idoia Fernández directoras de NF/NIEVES FERNANDEZ y de Blanca Cortés, abogada especializada en propiedad intelectual.
–
FOR RESERVATIONS, CLICK HERE.
Fardo proposes an encounter between the sound experiment, contemporary dance and the gallery environment.
Fardo offers an experience without passive subjects.
Fardo recognizes the intimate relationship between the contemporary subject and a kind of technological sameness: the mobile that one possesses.
Fardo plays at dismantling the mobile shutdown protocol during the show.
Fardo promotes the active use of mobile phones as a sound source for the show.
Fardo invites public attendees to establish and maintain the sound plot by activating any or all of the variety of alarms installed on their mobiles at will.
Fardo seeks an experience in which contemporary dance will act as a catalyst for such complexity.
Therefore:
Fardo presents the dancer and choreographer Poliana Lima who will be in charge of managing the obstacles, encounters and possibilities inherent to the dynamic tension offered by an art gallery with an ongoing exhibition, an active audience randomly scattered around it, and a state of unpredictable sound.
POLIANA LIMA (Brazil, 1983) is a choreographer, dancer, and teacher living in Madrid. She understands dance as an essential part of her and uses it as a tool to discuss human conditions, and the mysteries of our existence. Amongst her most notable works, there are: 'Palo En La Rueda' (2011); 'Es Como Ver Nubes' (2012), Public Prize at XXVI Certamen Coreográfico de Madrid and 'Flesh' (2012), both with Ugne Dievaityte; 'Cuerpo-Trapo' (2013) for the Museum of Contemporary Art (MSU) in Zagreb, Croatia; 'Atávico' (2014), first award at XXVIII Certamen Coreográfico de Madrid, Public Prize, Critics Award, Dance Web 2015 Grant (Impulstanz Viena) and residency at Tanzhaus, Zurich; 'Las cosas se mueven pero no dicen nada' (2016) for Laboratorio 180 and presented in Teatros del Canal in 2020; 'Hueco' (2019), solo at Teatros del Canal and Festival BAD Bilbao. In 2021 she premieres in France, at the Centre National de la Danse in Paris and continues her tour through Europe. Poliana Lima is the representing artist from Spain at Aerowaves 20/21.
PIPO HERNÁNDEZ RIVERO (Telde,Gran Canaria, 1966) has exhibited in galleries in Madrid, Milan, Tenerife, Las Palmas, Barcelona and Berlin. He has also had individual exhibitions in the Hermita del Gran Poder and in the Circle of Fine Arts of Tenerife, the Art Center of La Recova, and in the Contemporary Art Room of Tenerife. Moreover, he has participated in the Canary Islands Biennial, the Havana Biennial, and in group exhibitions at the Artium in Vitoria, the Krakow, Prague and Budapest museums, and the CAAM Atlantic Center for Modern Art. His works can be found in private collections in Turkey, USA, Mexico, Italy, Spain, as well as in the collections of ARTIUM, CAAM, TEA.
–
'Fardo' is CAMPING's fourth action, an initiative that will open NF/ NIEVES FERNANDEZ' gallery space to various cultural actors, so that they can freely develop and exhibit their projects and creations. Taking the exhibition space as a support for their actions, the various actors will display their temporary projects interacting with the exhibition installed at that time in the gallery.
CAMPING is a project conceived by Nerea and Idoia Fernández, directors of NF/ NIEVES FERNANDEZ and Blanca Cortés, lawyer specialized in intellectual property.