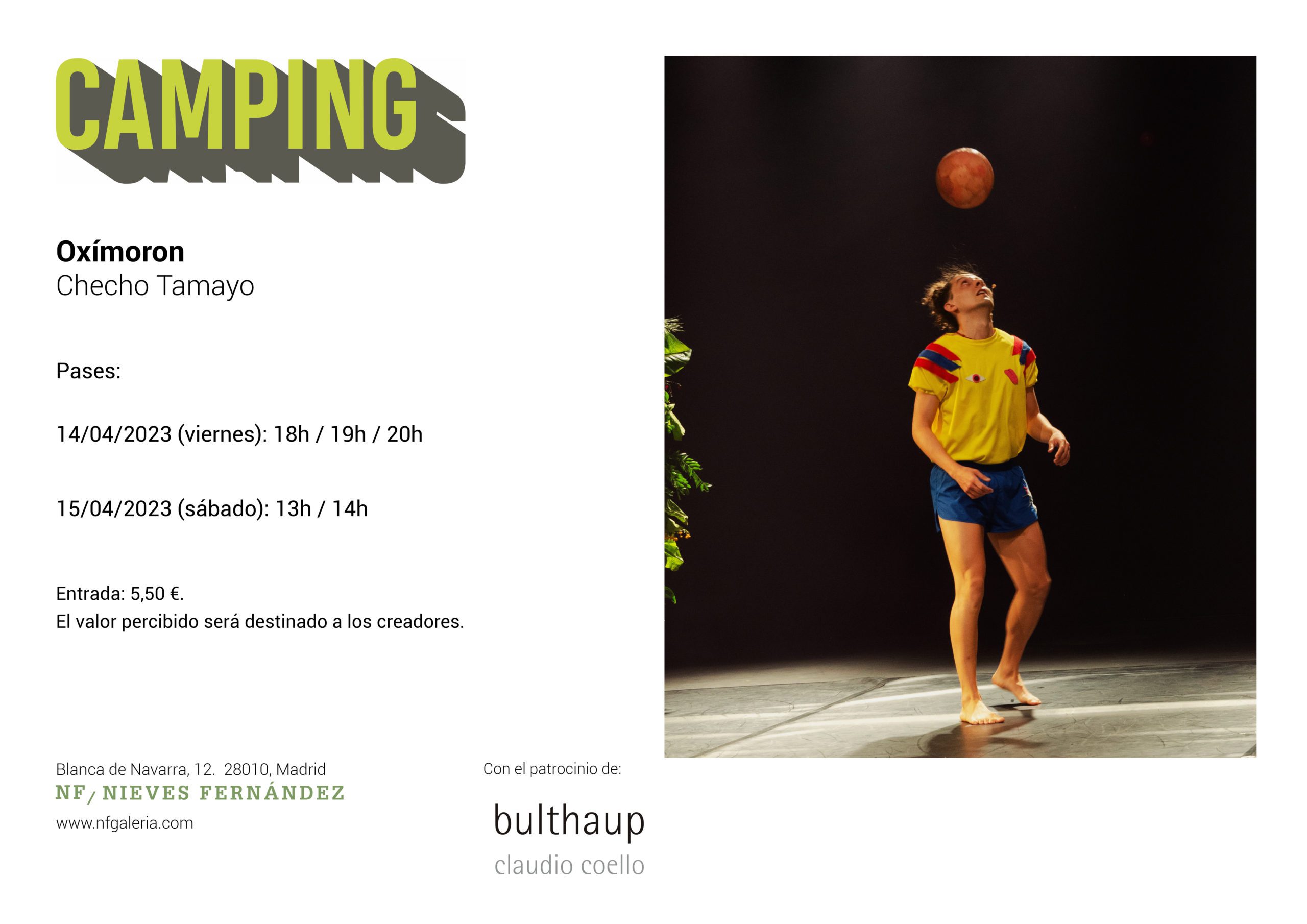 CAMPING presents: 'OXIMORON' by Checho Tamayo
TO BUY A TICKET, CLICK HERE.
Soccer and dance. The popular and the refined. The mystical and the historical. Abstractions that dilute in the folds of a sweaty body in constant transit, in constant search.
Oxímoron is part of a long research in which soccer is understood as a popular dance and as a community performance, in order to pull the encounters and misunderstandings of this popular sport and the world of contemporary art.
CHECHO TAMAYO is a scenic creator, performer, and ex-football player born in Medellin, Colombia (1994). He has been on three consecutive years winner of the INJUVE national call for proposals in the modalities of curatorship of the Sala Amadís (2020-2021), production (2021-2022), and mobility (2021-2022). In 2022 he creates "Moritūrī tē salūtant" with the coproduction of the MeetYou festival, the support of the SURGE festival, and the 35th Certamen Coreográfico de Madrid. In 2023, he received the first prize of the WE:NOW festival with the same work. His works have been exhibited and presented in venues such as C.C. Conde Duque (Madrid), Sala Amadís (Madrid), Teatro Pradillo (Madrid), 45th Salón Nacional de Artists (Bogota), C.C. Monte Hermoso (Vitoria), Pablo Tobón Uribe Theater (Medellin), Teatro Calderón (Valladolid), Teatro La Abadía (Madrid), Sala Baratza (Vitoria).
After playing in teams such as D. I. Medellín (Colombia), F.C. Dallas (United States) and C.C. Dallas (United States) and C.F. Léon (Mexico), he migrates to Castellón de la Plana, Spain, to continue with his sporting career. His subsequent move to Madrid provides him with the context to reflect on his sporting practice and to approach it as an expressive means that his native context allows him. It is then that he began his transition from high-performance sports to performative arts, visual arts, and dance. His work dialogues with the tensions that arise when apparently contradictory spaces are inhabited simultaneously: soccer and dance, the subtle and the exuberant, the refined and the popular, the historical and the mystical, the waking and the dreaming.
OXIMORON is the tenth edition of CAMPING and will take place on the finissage days of Tamara Arroyo's solo show Un fatal descontento de lugar.
CAMPING is a project by Nerea and Idoia Fernández, directors of NF/NIEVES FERNANDEZ and Blanca Cortés, lawyer specialized in intellectual property.