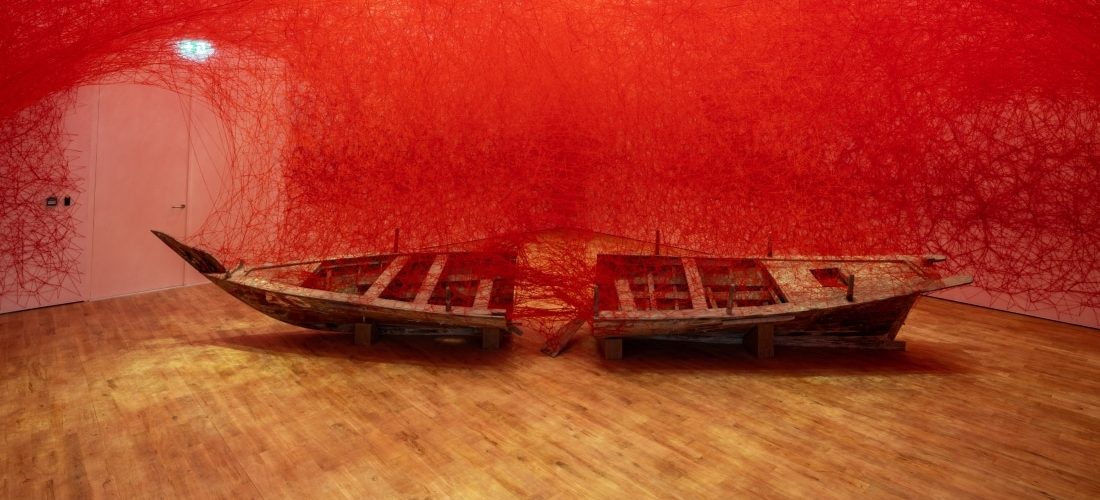 Chiharu Shiota en el Jameel Arts Centre, Dubai
Chiharu Shiota presenta la instalación 'Departure' (2018) en el recién inaugurado Jameel Arts Centre. Su exposición individual forma parte de los Artist's Rooms, una serie de exposiciones individuales pensadas en un diálogo específico entre los artistas invitados y el nuevo espacio artístico en Dubai.
Chiharu Shiota presents 'Departure' (2018) in the recently opened Jameel Arts Centre. Her solo exhibition is part of the Artist's Rooms, a series of solo shows that engage a specific dialogue between the invited artists and this brand new art space in Dubai.
11 NOV 2018 – 11 MAY 2019
Gallery 10, Jameel Arts Centre, Jaddaf Waterfront – Dubai
Para más información, pinche aquí
For more information, click here
'Departure is an immersive installation by Japanese artist Chiharu Shiota, which explores ideas of displacement, time and the entanglements of life. The work has been specially commissioned for the opening of the Jameel Arts Centre.
Working with large quantities of yarn, Shiota creates immersive web-like structures that take over entire rooms. Building on her experience growing up in Japan and moving to Berlin in the 1990s, her work often touches on the notion of travel, belonging and the complexity of the human condition.
In this particular installation, Chiharu works with traditional abra boats, referencing the history of the Dubai Creek and the city's identity as a meeting point of people, goods and ideas.
Drawn largely from the Art Jameel Collection, Artist's Rooms is a series of solo exhibitions by influential, innovative artists, with particular focus on practitioners from the Middle East, South Asia and Africa. These capsule shows are collaborative: curated in dialogue with the artist, with some presentations including new commissions. Winter 2018-19 features rooms by Maha Malluh, Mounira Al Solh, Lala Rukh and Chiharu Shiota in galleries 1, 2, 3 and 10.'