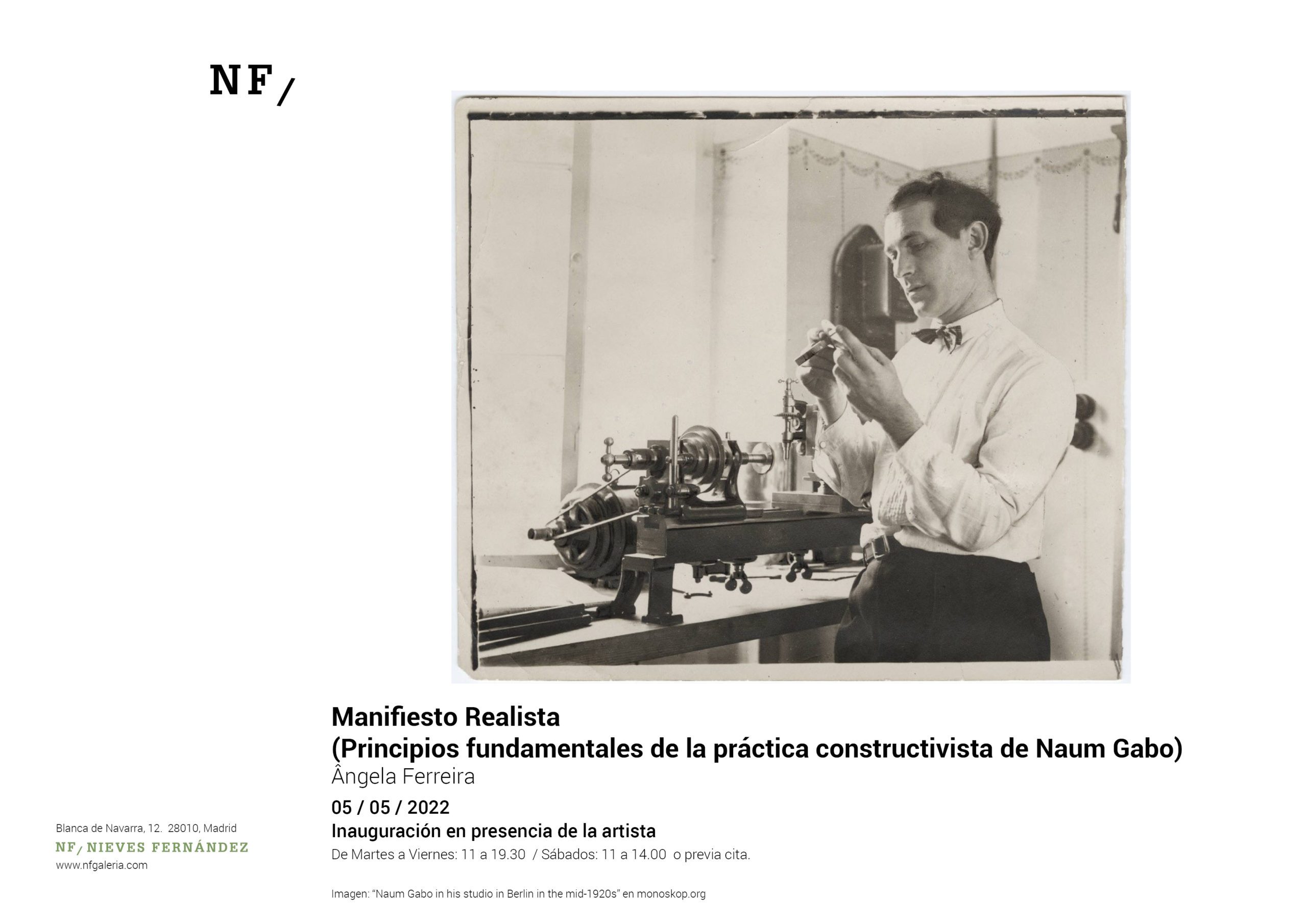 ÂNGELA FERREIRA. MANIFIESTO REALISTA (PRINCIPIOS FUNDAMENTALES DE LA PRÁCTICA CONSTRUCTIVISTA DE NAUM GABO)
INAUGURACIÓN 05/MAYO
Manifiesto Realista, primera exposición de Ângela Ferreira en NF/NIEVES FERNANDEZ, pone de relieve la idea del reciclaje en un complejo conjunto de formas entrelazadas. Reciclaje de máquinas, muebles y estructuras arquitectónicas que provienen de su vida cotidiana pero ya no están en buen estado. En segundo lugar, del estudio continuado del arte constructivista ruso y sus propuestas utópicas y vanguardistas para la creación de arte político a principios del siglo XX, concretamente Naum Gabo.
Los temas a los que alude: movimientos obreros, suministros de gas, líneas geográficas, revoluciones, cárceles y libertad, surgen durante una investigación sobre el legado de la circunnavegación, y nos plantean preguntas sobre la geopolítica europea actual.
–
OPENING 05/MAY
Realistic Manifesto, the first exhibition by Ângela Ferreira at NF/NIEVES FERNANDEZ brings to the fore the idea of recycling in a complex intertwined set of ways. Reciclyng of machinery, furniture and architectural structures wich hail from her daily life but are no longer working. Secondly, of the continuing study of the Russian constructivist and its utopic, avant-garde proposals for political art making in the early 20th century, specifically Naum Gabo.
The issues pointed at: workers movements, gas supplies, geographic lines, revolutions, prisions and freedom, began during an investigation about the legacy of the circumnavigation and arouse questions about today's European geopolitics.