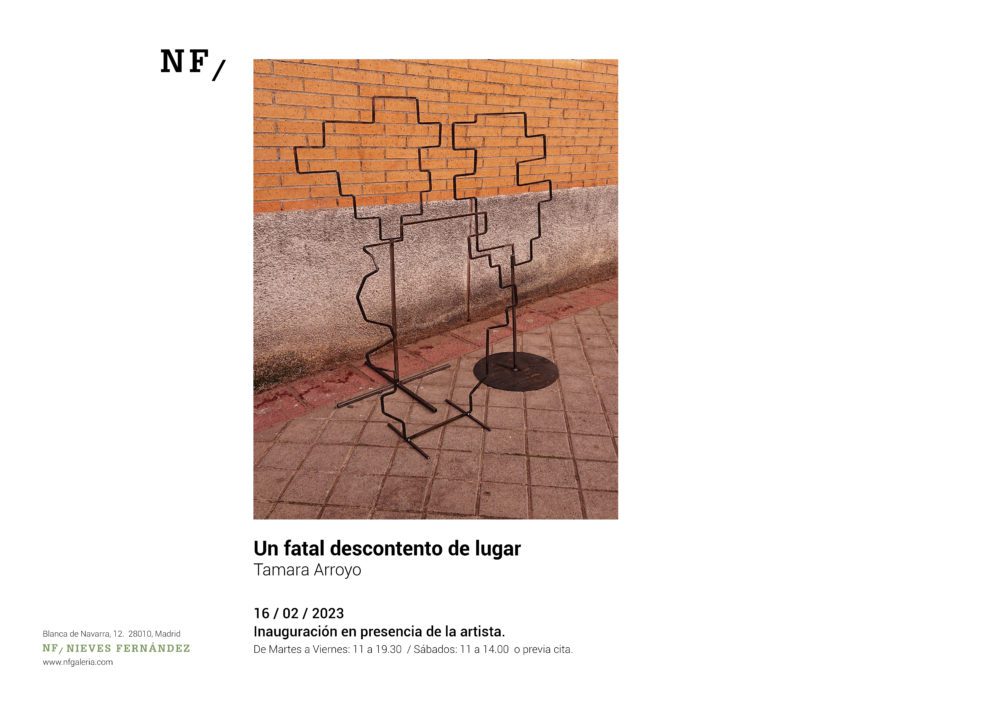 TAMARA ARROYO: UN FATAL DESCONTENTO DE LUGAR
Un fatal descontento de lugar (A Fatal Discontent of Place) is Tamara Arroyo's second solo show at NF/NIEVES FERNÁNDEZ. The show presents  unpublished but substantial pieces in the artist's career, ideas that were left on the margins of previous projects and that needed to materialize. Some of them derive directly from other works commissioned for the public space.
The title of the exhibition takes a concept that Jane Jacobs describes in her book "Death and Life of Great Cities", and in its awkward translation to Spanish becomes very appropriate here: A fatal discontent of a place. Jacobs reflects on the contradictions between monofunctional urban politics and the multiple uses of the city, and argues for a type of urban life that guarantees certain capacities and choices.
Tamara Arroyo's practice is based on her own experiences as an inhabitant of the city: both in a literal and punctual way (rescuing elements found in her walks and decontextualizing them by introducing them in her works), and in a poetic and subjective way (with allusions to her experiences, her stay in Havana, or the passage of light through the furniture of her street, for example).
Recreating devices used for order and separation, Tamara Arroyo speaks of identity, of the individual, of freedom. Delving into the ornaments, tiling, manual works and grilles that are still present in popular neighborhoods and in the social housing of our cities, the artist fights to recover the diversity that capitalism erases.
This exhibition is a playground, a representation of the city. It is a scenario that demands efforts and adaptations from those who visit it, forcing them to value their own experience in a complex and dynamic environment such as cities. Ultimately, it is a strengthening of personal identity, a manifesto for diversity in times of uncertainty.