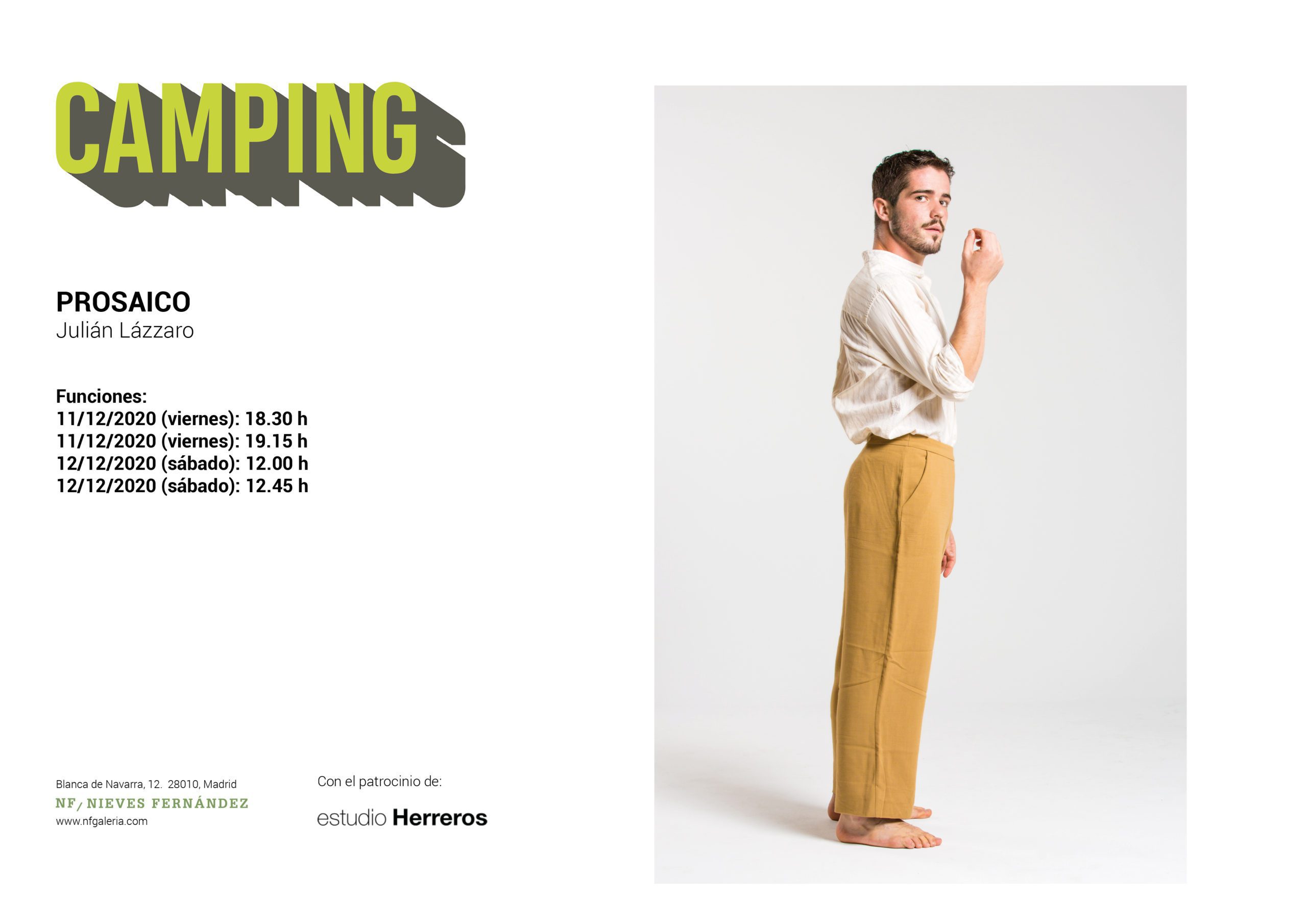 CAMPING presenta 'PROSAICO', de Julián Lázzaro
A menudo, el ser humano confunde alegría con felicidad y se aferra a una idea superficial de la vida, alejada de la búsqueda de la plenitud y la trascendencia.
"Prosaico" es una coreografía que reflexiona sobre la pretensión de alcanzar nuestros anhelos más profundos sin esfuerzo alguno. Para ello, un recurso habitual es negar los aspectos más monótonos y cotidianos de nuestra existencia hasta hacerlos invisibles, sustituyéndolos por un brillo que actúa como un espejismo en el que nos sentimos más exitosos.
Sin embargo, nuestro día a día está lleno de retazos sutiles cargados de experiencias y belleza. Lamentablemente, el camino hacia la sencillez no es tan evidente y descansado como podría parecer; por el contrario, se trata de un arte reservado a mentes libres que pueden sacudirse el peso de la convención y la esclavitud de lo previsible para habitar el misterio de lo menudo y lo inesperado.
Es en la prosa de lo cotidiano donde uno descubre la belleza.
Para reservar una plaza, pincha aquí.
JULIÁN LAZZARO (Madrid) se gradúa en danza contemporánea con Mención de Honor en el Real Conservatorio Profesional de Danza Mariemma, donde se formó con maestros como Pedro Berdayes, Christine Tanguay, Oscar Lozano o José Reches. Posteriormente amplía su formación con distintos coreógrafos internacionales como Damien Jalet, Thomas Hauert, Samuel Lefeuvre o Sharon Fridman.
En 2018 colabora en el proyecto "Sin Piedad" del coreógrafo Chevi Muraday en su compañía "Losdedae". El mismo año ingresa en la compañía Alemana "Pforzheim Stattheater". Su interés por la pedagogía le ha llevado a impartir distintos talleres de danza.
Actualmente reside en Madrid donde colabora como intérprete en la Compañía de Antonio Ruz. Ha participado en sus últimos trabajos, "Presente" o "El Barberillo de Lavapiés". 'Ruiseñor' es su primer proyecto como creador.
–
'Prosaico' es la primera acción de Camping, una iniciativa que abrirá el espacio de la galería NF/ NIEVES FERNANDEZ a diversos actores culturales, con el fin de que puedan desarrollar y exhibir sus proyectos y creaciones libremente. Tomando como soporte de sus acciones el espacio expositivo, los diversos actores desplegarán sus proyectos temporales interactuando con la exposición instalada en ese momento en la galería.
Con este proyecto, Camping ofrece un encuentro entre los creadores y el público quienes acamparán tomando la galería como un paisaje privilegiado en el que disfrutar de un periodo de reflexión y convivencia alejado de las estridencias del mundo exterior.
Camping es un proyecto de Nerea e Idoia Fernández directoras de NF/NIEVES FERNANDEZ y de Blanca Cortés, abogada especializada en propiedad intelectual.
–
The human being often confuses joy with happiness and clings to a superficial idea of life, far from the search for fulfillment and transcendence.
'Prosaico' is a choreography that reflects on the intention of achieving our deepest desires without any effort. For that, a common resource is to deny the most monotonous and daily aspects of our existence until we make them invisible, replacing them with a glow that behaves as a mirage in which we feel more successful.
Yet, our everyday life is filled with subtle bits and pieces full of experiences and beauty. Unfortunately, the path to simplicity is not as obvious and restful as it might seem; on the contrary, it is an art reserved for free minds that can shake off the weight of conventions and the slavery of the predictable to inhabit the mystery of the small and the unexpected.
It is in the prose of the day-to-day routine where one discovers beauty.
To book an entrance to a presentation, click here.
JULIÁN LAZZARO (Madrid) graduated in contemporary dance with Honorable Mention from the Royal Professional Conservatory of Dance Mariemma, where he trained with teachers such as Pedro Berdayes, Christine Tanguay, Oscar Lozano or José Reches. Later he expanded his training with different international choreographers such as Damien Jalet, Thomas Hauert, Samuel Lefeuvre or Sharon Fridman.
In 2018 he collaborated in the project "Sin Piedad" by the choreographer Chevi Muraday in his company 'Losdedae'. The same year he joined the German company 'Pforzheim Stattheater'. His interest in pedagogy has led him to teach in different dance workshops.
He currently resides in Madrid where he collaborates as an interpreter in the Antonio Ruz Company. He has participated in his latest works, 'Presente' or 'El Barberillo de Lavapiés'. 'Ruiseñor' is his first project as a creator.
–
'Prosaico' is Camping's first action, an initiative that will open NF/ NIEVES FERNANDEZ' gallery space to various cultural actors, so that they can freely develop and exhibit their projects and creations. Taking the exhibition space as a support for their actions, the various actors will display their temporary projects interacting with the exhibition installed at that time in the gallery.
With this project, Camping offers a meeting between the creators and the public who will camp taking the gallery as a privileged landscape in which to enjoy a period of reflection and coexistence away from the shrillness of the outside world.
Camping is a project conceived by Nerea and Idoia Fernández, directors of NF/ NIEVES FERNANDEZ and Blanca Cortés, lawyer specialized in intellectual property.