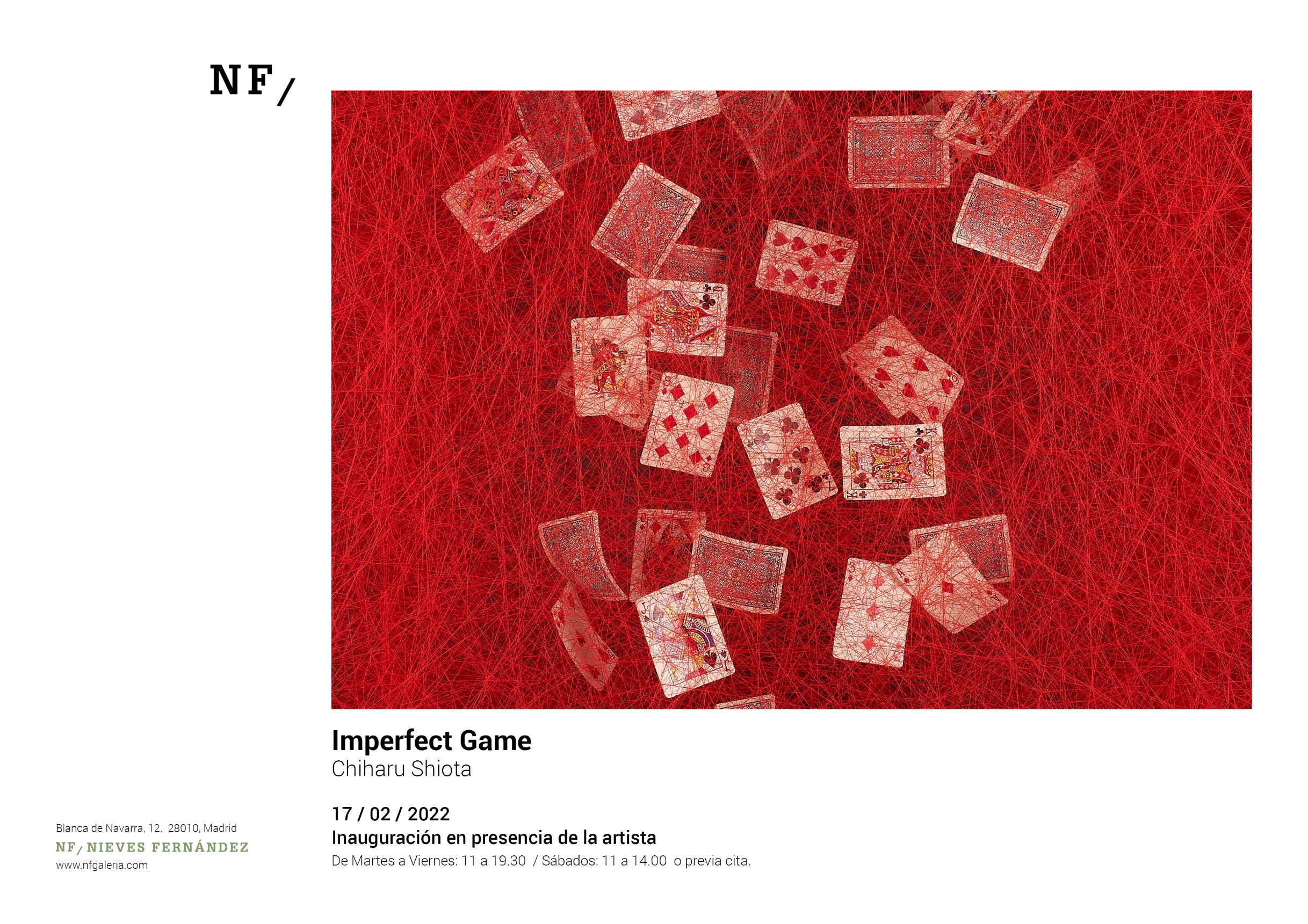 CHIHARU SHIOTA. IMPERFECT GAME.
INAUGURACIÓN 17/FEB
Las cartas de una baraja solo son identificables por un lado. Los jugadores, por su parte, solo conocen sus propias cartas y no tienen acceso a todas las probabilidades. En la teoría de juegos se denominan juegos de "información imperfecta", en oposición a los que no tienen ninguna información oculta y se basan en estrategias.
En la vida tomamos decisiones basándonos en esa misma información imperfecta. No podemos ver dentro de la cabeza de las personas, ni siquiera podemos entender claramente nuestro propio pensamiento. Nuestro camino está cambiando constantemente y debemos reaccionar frente a estos cambios.
Puede que no haya victoria al final, pero las pérdidas siempre pueden ser enormes. Así que algunos de nosotros irónica y ansiosamente nos apoyamos en cartas de todos tipos para revelar nuestro destino desconocido. Y aunque nunca podremos saber cuál será nuestro destino, y mucho menos influir en él, sí que podemos tomarlo a la ligera e intentar disfrutar del juego.
–
OPENING 17/FEB
Cards are only identifiable from one side. The players only know their own cards and do not have access to all probabilities. In game theory they are characterized as games of "imperfect information" opposed to the ones which have no hidden information and are based on strategies.
In life we make all our decisions based on imperfect information. We cannot see inside peoples' heads, we cannot even understand our own thinking clearly. Constantly our path is changing, and we must react to it.
There is no win in the end, but the losses can be huge. So some of us ironically and anxiously refer to cards of all things to reveal our unknown destiny to us. But we can never know what our fate will be, much less influence it. We can only take it lightly and try to enjoy the game.