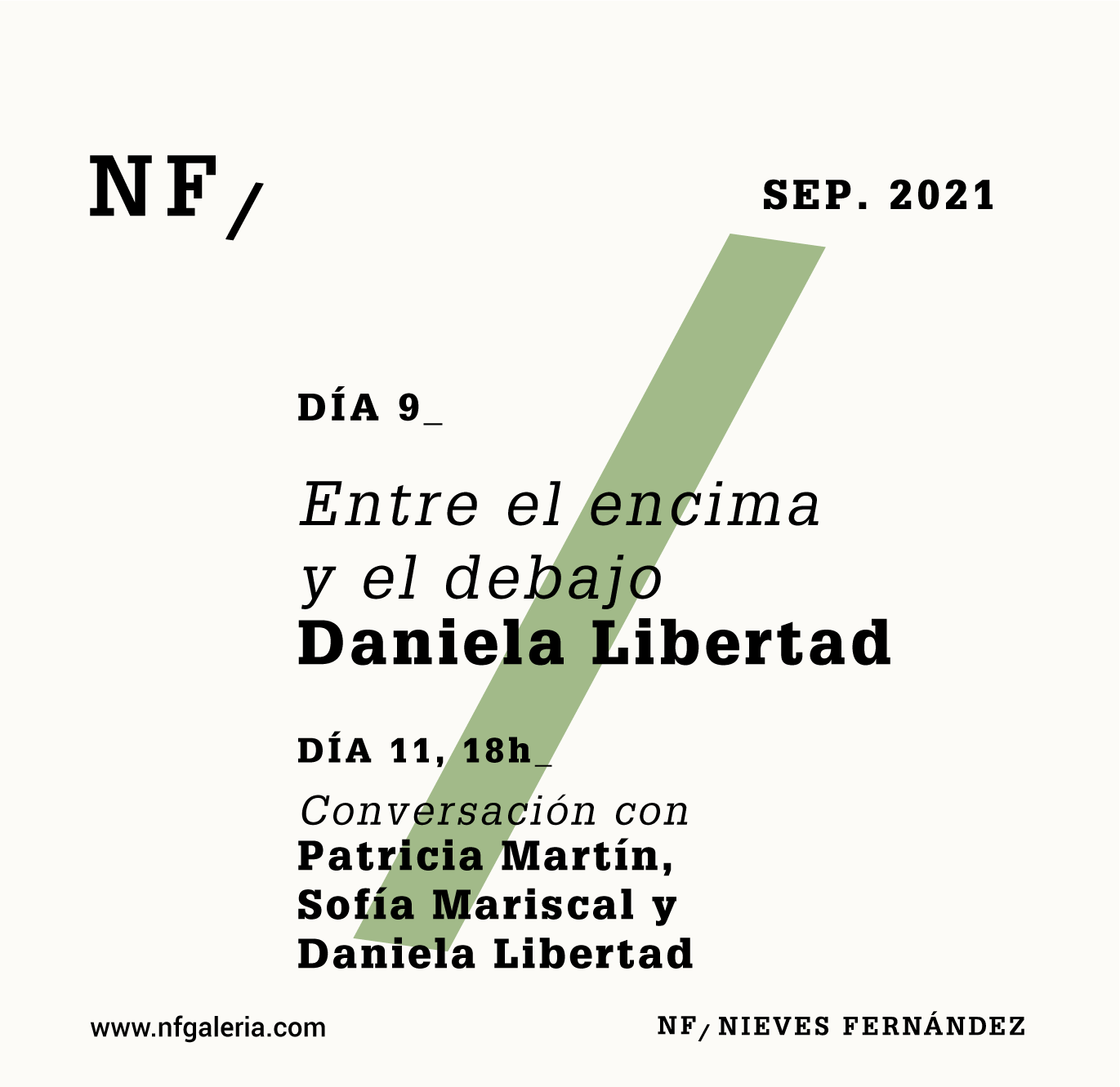 DANIELA LIBERTAD. ENTRE EL ENCIMA Y EL DEBAJO.
INAUGURACIÓN 09 SEP 2021
CONVERSACIÓN 11 SEP 2021, con Patricia Martín y Sofía Mariscal, a partir de las 18.00h
Entre el encima y el debajo es la primera exposición individual de Daniela Libertad en NF/ NIEVES FERNÁNDEZ. La muestra, conformada por dibujos en gran formato, video y esculturas, plantea diversas reflexiones que van desde cómo Libertad construye sus imágenes en el cruce entre el dibujo y el tejido hasta la posibilidad de encontrarse con un nuevo color.
El soporte papel y su materialidad ocupan un lugar de importancia para la conformación y comprensión de las piezas, una vez que la artista lo reconfigura múltiples veces, dibujado, tejido, desbordado, resistiendo o cediendo ante la relación con otros materiales como el hilo o el metal.
Por otro lado, el color también es un elemento fundamental presente en los trabajos de Daniela Libertad, que lo explora hasta un punto de materialización espacial. El color abunda y se mezcla, yuxtapone, cobrando unas características casi físicas, en un gesto que tensiona los límites de su comprensión plástica meramente plana, para darle cuerpo y materialidad en contornos, texturas, volúmenes. Los colores componen y dan forma al tejer, pero también cobran una especie de vida en un campo onírico, como es el caso de la obra audiovisual en la exposición, en la que un nuevo color existe como recuerdo y posibilidad y en la que la narración que hace la artista del encuentro con un nuevo color nos deja ver que el único lugar posible para su existencia es el espacio de la palabra.
Esta exposición se enmarca en el programa de APERTURA Madrid Gallery Weekend 2021. Horarios especiales de la galería: jueves (09/09) de 12 a 20h, viernes y sábado (10-11/09) de 11 a 20h y domingo (12/09) de 11 a 14h.
OPENING 09 SEP 2021
EXHIBITION TALKS 11 SEP 2021, with Patricia Martín and Sofía Mariscal, starting at 6 pm
Entre el encima y el debajo [Between the Above and the Below] is Daniela Libertad's first solo exhibition at NF/ NIEVES FERNÁNDEZ. The exhibition, composed by large-format drawings, video and sculptures, raises various reflections that range from how Libertad constructs her images at the crossroads between drawing and fabric until the possibilities of discovering a new color.
The paper support and its materiality occupy a place of importance for the conformation and understanding of the pieces, once the artist reconfigures it multiple times, drawn, woven, overflowed, resisting or yielding to the relationship with other materials such as thread, yarn or metal.
On the other hand, color is also a fundamental element present in the works of Daniela Libertad, that she explores to a point of spatial materialization. Color abounds and mixes, juxtaposes, turning into an almost physical feature, in a gesture that stretches the limits of the merely flat plastic understanding of it, to provide it with body and materiality in contours, textures, volumes. Colors compose and shape weaving, but they also take on a kind of life in a dreamlike field, as is the case with the audiovisual work in the exhibition, in which a new color exists as a memory and possibility and in which the narration what the artist does of the encounter with a new color lets us see that the only possible place for its existence is the space of the word.
This exhibition is part of the program at APERTURA Madrid Gallery Weekend 2021. Gallery's special hours: Thursday (09/sep) from noon to 8 pm, Friday and Saturday (10-11/sep) from 11 am to 8 pm and Sunday (12/sep) from 11 am to 2 pm.